Tonight I went to Ikea.
I don't do Ikea the way that most people do. The first thing I do is check out the as-is section. I'm not exactly clumsy, but I'm not exactly not clumsy either, so I don't mind buying slightly nicked floor models at discounted rates! Plus, there's all sorts of stuff to be found there that's made for the DIY crowd. Lots of cabinet doors and the like that I would love to have time to really play with! Perhaps this summer!
Anyway, remember when I wrote about the awesome dressers I bought to remake? Oh, wait, I only tweeted about it. Pretty much I'm going to do one of the Ikea Rast Dresser makeovers that are totally all over the DIY blog scene. Ya take a $30 dresser and turn it into something that looks like you paid 3 times as much for it!

Jenny at Little Green Notebook posted about this transformation…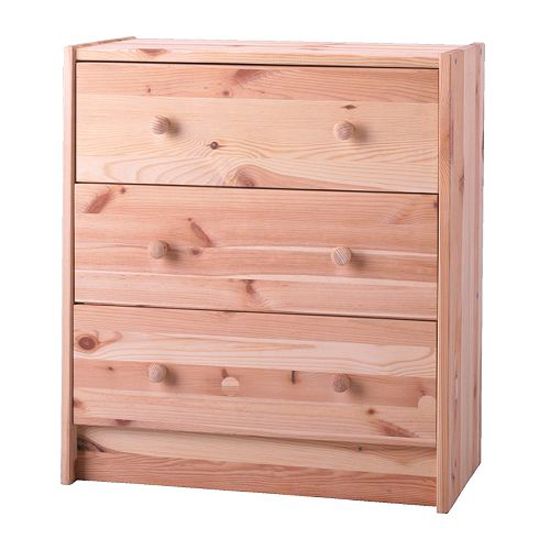 Awesome, right?
Those aren't the colors I'm going with, I'll share more when I'm ready to work on them. This will probably be after Vegas. This is just another reason to be excited for graduation!
For the record, I've already bought 2 of those dressers. They are sitting in storage, just waiting for me to have my brother lift them back into my trunk and then bring them upstairs for me to work on! After buying them, my mom found my lost wallet, which had an Ikea giftcard with about $75 left on it!
So tonight I went to Ikea! It was on my way home from hanging out with The Professor and I had that giftcard just burning a hole in my pocket. Nothing in the as-is section for me today. There were some possibilities, but nothing that I needed for my current situation and it does me no good to keep something in storage right now.
I could definitely use a shelf to organize some things in my room right now though, so I went to check out what they had. I was rather happy with this.
I plan on staining the sides and top of the dresser, and when I do that I can take down this shelf and stain it the same hue! Don't know what I'll do for the brackets yet, but I can do just about anything!
Only $7, and even with the extra bracket I got, just in case I need one in the middle, the whole setup cost me $18! I also picked up some bowls for my niece, and a spoon to get the food from said bowls to her mouth, as well as an orchid and a nice little pot for it! (Side note because I'm a little tipsy and telling you all the details tonight, I debated about this pot for like 5 minutes because there are different designs, as soon as I got home I saw that it's the same one I ended up getting and putting my succulent in a couple years ago!)
My total for the night was just over $35, and I still have just over $40 on the card! Now what should I get?!